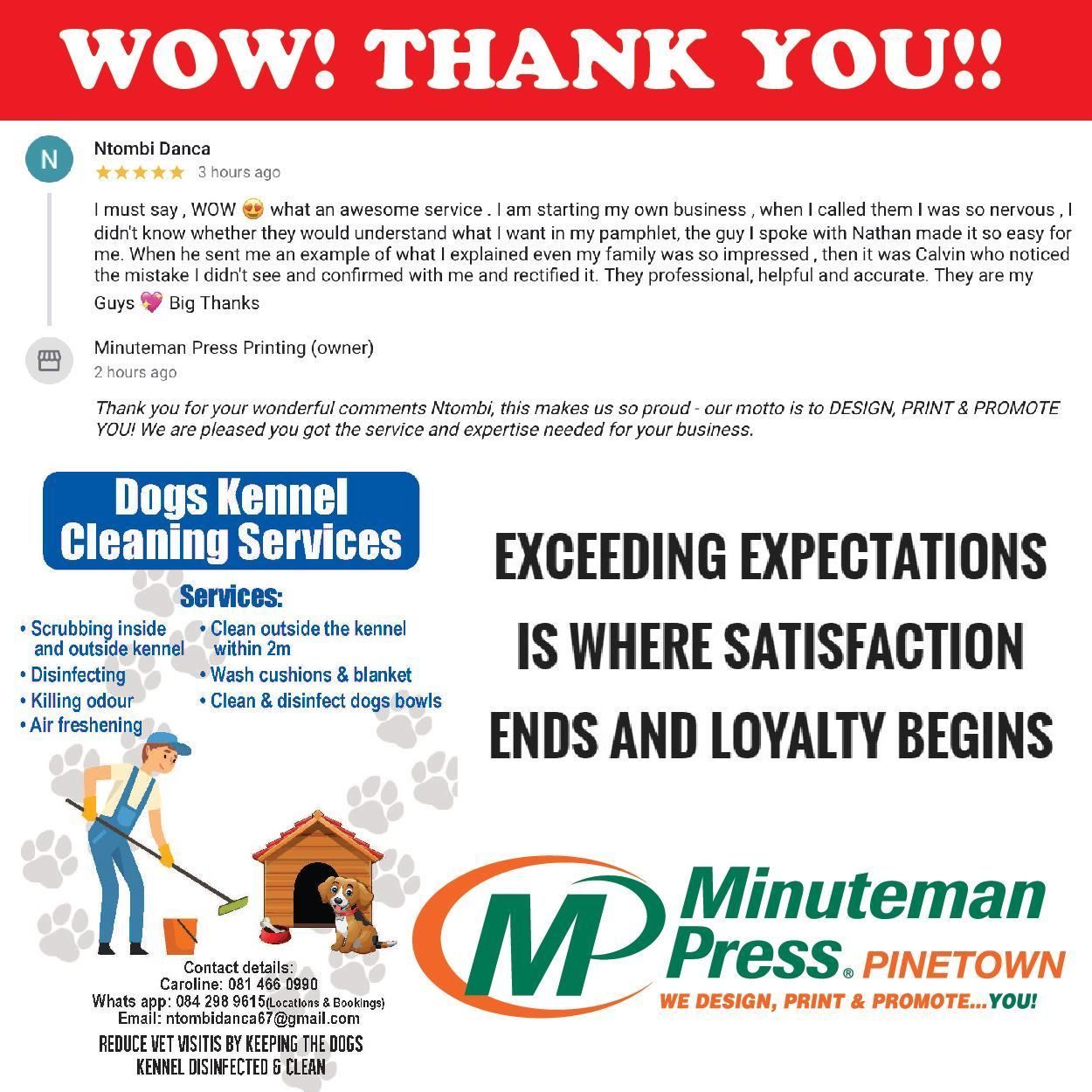 Vanessa Evans - WEAR CHECK
20 Sept 2021
I have worked with Minuteman Pinetown on a few occasions. They are professional, efficient and really good value.
____________
Uveen Panday
August 2021
EXCEPTIONAL service. Great quality work and reasonable price too. would definitely recommend
____________
Beth Nevill
June 2021
They are fast and efficient, thank you from BM Naturel
____________
Hannelie Pickering (Morris)
June 2021
They were great at answering all my questions via email and I am happy with my product.
____________
Kevin Moore
June 2021
Always a pleasure dealing with such a professional outfit, well done
____________
Shivs Shivs
June 2021
Easy ordering, no problems incurred. I'm impressed
____________
Thami Mdunge
June 2021
I was very impressed with the service i recieved, it was a short notice and was i requested that j get my order on 3 days and it was ready before i knew it, the lady who assisted me Meg was very professional and helpful. Thank you so much
____________
Nicky Oliver
June 2021
I am very impressed with the quality of the flyers we ordered as well as the professional and quick service from Minuteman. I would highly recommend them.
____________
K-Frica Marketing Kwazi Majozi
May 2021
Had a superb service experience at Minuteman. Tanya (I think) gave such a warm reception, with an amiable demeanor, and Calvin handled my graphic designs professionally, and at a fast pace. Definitely coming back.
____________
Jennifer Jood
May 2021
They gave me great service. Very helpful. My experience with Minuteman Press Printing was good. Would definitely recommend them.
____________
CHARMAINE PILLAY
May 2021
S.A. Crime Patrols are very impressed with the amazing service and product received.
____________
Nicole Fischer
May 2021
I have worked with this business for just little over 2 months now, Tanya the manager is always very informative, quick to reply and their prices are ridiculously reasonable. Very impressed. Will continue to use their services and suggest them to you as well..
____________
Reshell Anthony
May 2021
Awesome prompt service
____________
Margie Vogt
April 2021
We were extremely happy with your efficient service and prompt delivery. Thank you!
____________
Matthew Helm
April 2021
Absolutely thrilled with the quality of work completed from Minuteman and would recommend them for all small and large scale printing requirements. Friendly staff abs professional workmanship! See you again soon!
____________
Sakita Sublal
April 2021
Excellent service and friendly staff. They are an integral part of the successful marketing of my business. I would definitely recommend Minuteman Pinetown.
____________
lucille Dutton
April 2021
Durban Waterworx Inspecto Pty Ltd - I would like to give them 5 stars , Professional , quality work guaranteed.
____________
Aqua Training Centre
March 2021
Minuteman has very impressive customer care and they have met our requirements with regards to printing and designing. i will highly recommend them to all my clients. Well done Minuteman on your professionalism and quality work.
____________
Andre Krugel
March 2021
I have dealt with a number of printing companies in the past. The service, quality and price of Minuteman definitely sets them apart from everyone else. The response time is an added bonus. I definitely would recommend them to anyone looking for any printing services.
____________
Pamela Smith
March 2021
The team is so efficient, friendly and helpful. Our orders are always on time and have assisted with many urgent one's. Never had a problem with any goods received. a big thanks to the team at Minuteman for always going the extra mile :) Pam from Leather Finishing Products
____________
Uveen Panday
March 2021
Quite friendly service. Not busy. Reasonably priced
____________
Madem Moiselle Wellness
Feb 2021
What a great and professional company to do all my corporate stuff! They are efficient fast and friendly I have added them as my no1 go to for all my business requirements
____________
Ramon Buckley
Feb 2021
Very professional and friendly sales personnel. Customer service was also really good.
____________
Faheem
Jan 2021
What an amazing team to work with...Reliable/Professional/Cheap and the list goes on - i can stand guarantor for quality from these guys & I will always remain a loyal customer to Minueman Press PTN. THEY ARE JUST TOO FANTASTIC!!!
____________
juandre botha
Jan 2021
Excellent service and speedy process... Well done guys!!!
____________
PEST MAN
Dec 2020
Thank you for yet another order received in record time. You always under promise and over deliver. That's why you are our preferred supplier of our branded stationaries.
____________
Nosipho Bungane
Dec 2020
My sticker printing experience was amazing, they are very quick to respond to emails. My sales person has been Nathan Kay and he has been so helpful. The quality of their stickers is amazing.
____________
Anthony Schutte
Dec 2020
Had great service from Nathan.
____________
Ria Alison
Dec 2020
I received the most exceptional service from Minuteman Press Pinetown! I received my printing in record time at the most reasonable price and great quality. I cannot recommend them more highly.
____________
Brent Williams
Nov 2020
Amazing service from quote to pick up. Cheaper than all other options but still highly professional and efficient. Thank you so much. Definitely be back.
____________
Ntombi Danca
Nov 2020
I must say , WOW what an awesome service . I am starting my own business , when I called them I was so nervous , I didn't know whether they would understand what I want in my pamphlet, the guy I spoke with Nathan made it so easy for me. When he sent me an example of what I explained even my family was so impressed , then it was Calvin who noticed the mistake I didn't see and confirmed with me and rectified it. They professional, helpful and accurate. They are my Guys Big Thanks
____________
Nick Claude Coetzee
Oct 2020
I am once again extremely impressed by Minuteman Pinetown. Not only are their rates amazing. Their customer service is A+. And then you end up with a product you can be sure will both look great and promote your business to the standard you hold it at. Very happy with each and every job Minuteman has done for us and we will most definitely be using them over and over and over again. Thanks guys.
____________
KT Moore Arts
Oct 2020
I had a fantastic experience! Customer service is amazing and my product was amazing quality! Will definitely be working with Minuteman Press Printing in the future.
____________